THE ROCK SERIES
THE ROCK SERIES - Affordable, Downloadable Math, Reading, and Language ​​Software for Extra Lessons in Grade 0 - Grade 12 - NO INTERNET NEEDED
The Rotsreeks/Rockseries program include:
Brand new remedial package that assists children with perceptual development and could also be used for readying children for school
Everything is rendered in full colour. There are drag and drop activities, remedial activities etc. included. pre-tests for evaluating incumbent.
+/- 1200 Math Lesson explained in full colour - All lessons are explained step by step with sound: This helps for children with ADHD and dislexia.
Afrikaans Grammar
English grammar
Senior Reading program, (most children who are struggling with Math. are also struggling with reading)
We cover the alphabet, high frequency words, Spelling, Basic reading and Senior speed reading up to a Thousand words per minute . Concentration, widen eye span and many many more.
We have developed this program with the help of current professional practitioners. It consists of the following:
Content that is rendered on an interactive multimedia platform with the aim of stimulating the patient/child.
We compete with Television and computer games and an App. Just does not cut it(not enough content)
Content ensure that the user does not get bored and the Rock Series has ample content.
Another important feature of this program is the ability to capture user data in the background and to export said data to Excel for report purposes (lessening Workload?)
For therapists we have included templates to streamline administration e.g. typical assessment.
In addition we have remedial accredited content in the Rockseries Mathematics and Reading section which we linked with The Spelling portion in order to alleviate possible deficiencies in the learners makeup.
All of this at home or in the practise!
OUR VISION
Is To Provide Christian Based Educational Programs That Will Lead To Academic Excellence! Highly recommended by Homeschoolers
Affordable Math, Reading, and Language ​​software.
Lessons are explained step by step in audio.
Self-evaluating tests. Worksheets can be printed.
Eventually!!! An easy way to master Maths and Reading.
Grave reports? Afraid of "online" programs? Join the Rock Series today and make sure your child's primary school building blocks are in place! Mathematics, Reading, Remediation and Languages. Easy explanations in full color with sound. Worksheets, self-marking tests! We have been helping children for 17 years to achieve academic success! No internet required after installation! Contact us today on Whatsapp 0833018159 or send an email to chanine@rockseries.co.za .. Become part of our winning team today!
HOW IT WORKS
The program is loaded onto your computer and then lessons are explained interactively and audio-visually to your children without any stress.
One of the nice things about the program is that the child can work at his / her own pace
Steps can be listened to and watched over and over again until the concept is understood
Stress-free education at home!
ENTHONALANGA, a school in Tembisa's pass rate for Gr.7, went up from 22% TO 75% !!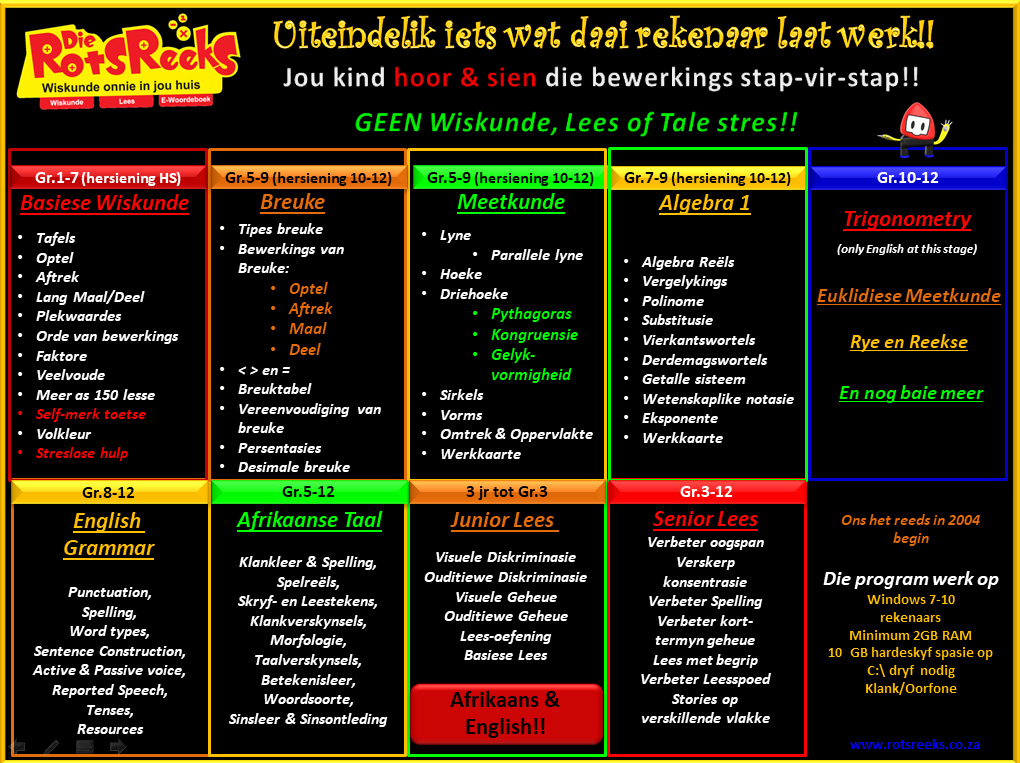 THE ROCK SERIES - Bekostigbare Aflaaibare Wiskunde-, Lees-, en Tale Sagteware vir ekstra lesse van Graad 0 - Graad 12 - GEEN INTERNET WORD BENODIG NIE


SPESIALE AANBIEDING
WOW!!!! WOW!!!! WOW!!!! – Slegs R99 per maand vir die volprogram
***Jy spaar R1200 per jaar***
Wiskunde, lees en tale!!

Rotsreeks fokus op die probleemareas:
Junior program: Sluit in: Kleure, Vorms, Syfers,Letters, My liggaam, Rympies, Seisoene, Maande, Weeksdae, Dienste, Horlosie-lees, Voedsel wat ons eet, Soogdiergeluide ens
Remediëring: Perseptuele pre-toetse asook ekstra oefeninge – dit help kinders wat agtergeraak het en wat ook sukkel met diskriminasie, disleksie ens.
Wiskunde – GR.1-9 –ons fokus op die probleemareas en ontwikkeling nuwe lesse soos ouers vra (reeds meer as 1000 lesse), oefeninge, selfmerktoetse ens.
Beginnerlees – heel basiese lees, letters, hoë frekwensie woorde
Spoedlees – lees tot 1000 woorde per minuut – begripstoetse, flitsoefeninge, spelling, geheue oefeninge, oogoefeninge en vele meer
Afrikaanse Taalwerk
English Grammar

Die Rotsreeks/Rockseries program sluit in:
Junior program sluit in:Kleure,Vorms, Syfers, Letters, My liggaam, Rympies, Seisoene, Maande, Weeksdae, Dienste, Horlosie-lees, Voedsel wat ons eet, Soogdiergeluide ens.
Splinternuwe remediërende pakket wat kinders help met Perseptuele Ontwikkeling en wat ook gebruik kan word vir skoolgereedmaking
Alles is volkleur. Daar is "drag en drop" aktiwiteite, remediërende aktiwiteite ens, alles ingebou.
Daar is ook pre-toetse ens. in sodat jy jou kind kan toets
Baie werkblaaie wat uitgedruk kan word sodat hulle ook met die handjies kan oefen
+/- 1000 wiskunde lesse wat stap-vir-stap, in volkleur met klank verduidelik word. –Gr.1-9 maar daar is reeds gr.10-12 werk ingesluit
Afrikaanse Taalwerk
English grammar
Senior Leesprogram, (meeste kinders wat met wiskunde sukkel, sukkel ook oor die algemeen met lees)
Hier leer ons alles insluitend die: Alfabet, Hoë frekwensie woorde, SPELLLING, Basiese beginlees en Senior spoedlees tot 1000 w.p.m., Oogoefeninge, Flitsoefeninge, Geheue-oefeninge, Jy kan selfs hier sien teen hoeveel woorde per minuut jou kind lees, Begripstoetse na leesstukke
ONS VISIE
Is om Christelik gebaseerde Opvoedkundige programme te verskaf wat sal lei tot Akademiese uitnemendheid! Word sterk aanbeveel by Tuisskoliere
Bekostigbare Wiskunde-, Lees-, en tale sagteware.
Lesse word stap vir stap in klank verduidelik.
Selfmerktoetse. Werkblaaie kan gedruk word.
Uiteindelik!!! 'n Maklike manier om Wiskunde en Lees onder die knie te kry.
Riller rapporte? Bang vir "online" programme? Sluit vandag aan by die Rotsreeks en maak seker jou kind se laerskool-boublokkies is in plek! Wiskunde, Lees, Remediëring en Tale. Maklike verduidelikings in volkleur met klank. Werkblaaie, selfmerktoetse! Ons help kinders al 17 jaar om sukses te behaal op akademiese gebied! Geen internet benodig na installasie! Kontak ons vandag op Whatsapp 0833018159 of stuur 'n epos na chanine@rockseries.co.za.. Word vandag nog deel van ons wenspan!
HOE DIT WERK
Die program word op jou rekenaar gelaai en dan word lesse interaktief en oudio-visueel aan jou kinders verduidelik sonder enige stres.
Een van die lekker dinge van die program is dat die kind teen haar/sy eie pas kan werk
Stappe kan weer en weer na geluister en gekyk word totdat die konsep verstaan word
Niemand word kwaad nie en die kind word nie afgebreek nie, maar wel opgebou omdat hy lesse makliker kan verstaan en DAN... die smaak van oorwinning proe as hy/sy iets oorwin.
ENTHONALANGA, 'n skool in Tembisa se slaagsyfer vir Gr.7, het opgegaan van van 22% TOT 75% !!
Lesse word stap-vir-stap in klank en volkleur gewys
Die lesse is redelik kort om aandag te hou
Baie selfmerktoetse en werkblaaie
Jou kind werk teen sy/haar eie pas en niemand word kwaad nie
Hulle bou selfvertroue en ontwikkel 'n liefde vir Wiskunde en lees asook tale
Wiskunde fokus van voorskool tot Gr.9 maar ons het alreeds GR.10-12 werk ingesluit en is besig om nog lesse te ontwikkel
Vir die kleiner kinders is daar baie perseptuele oefeninge en toetse
Leespoed: woorde per minuut word bereken soos jou kind lees en daarna is begripstoetse
Spelling en speltoetse ingesluit
Baie goed word op die rekenaar gedoen en baie goed kan ook uitgedruk word om op te oefen
Jy betaal per rekenaar nie per kind nie
Alles opgraderings is gratis in die huidige vakke
Daar is ook baie ander toetse wat jy kan gebruik om jou kind se vordering te toets.. baie remediërende terapeute gebruik vandag die program en kry fantastiese resultate.
Selfs kinders met Down sindroom en Autisme, ADHD en Disleksie kan gehelp word.
***JY het nie die internet nodig vir die program nie en jy kry beide die Afrikaanse en Engelse weergawes!***
As jy goeie internet het, kan jy ook die program gaan aflaai van ons webwerf af. Ekstra klasse is peperduur en veral met hoë brandstofpryse word dit net duurder en duurder!!
SPAAR NOU deur die Rotsreeks- sagteware vandag nog in jou huis te kry en word 'n wen-ouer!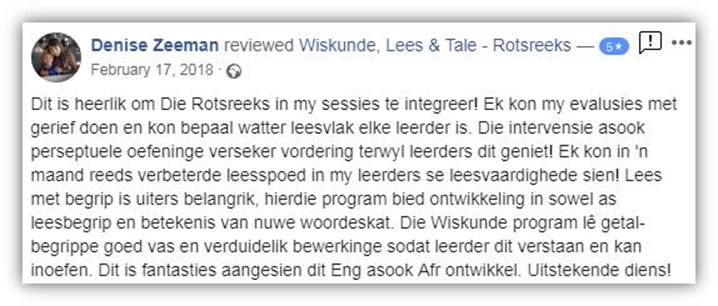 Follow us on Facebook